actris-acsm AT lists.psi.ch
Subject: Actris-acsm mailing list
List archive
From: Véronique RIFFAULT <veronique.riffault AT mines-douai.fr>
To: actris-acsm AT lists.psi.ch
Subject: [Actris-acsm] Looking for a MD1 pump
Date: Tue, 17 Mar 2015 08:42:58 +0100 (CET)
List-archive: <https://lists.web.psi.ch/pipermail/actris-acsm/>
List-id: <actris-acsm.lists.psi.ch>
---
Dear all,

we have just started a field campaign in Senegal with our ACSM and got a crash of our MD1 pump after less than a week running.

Unfortunately neither we nor Aerodyne has a spare one available so it will delay our campaign for a few weeks even if we place an order right now.

I thought I would take the chance to ask if any ACSM group would be able to help us by supplying a spare pump and we would send them a new one as soon as we receive it.

In any case, thanks for reading!

Veronique

--

Prof. Véronique RIFFAULT
Département Sciences de l'Atmosphère et Génie de l'Environnement
Ecole Nationale Supérieure des Mines de Douai
941, rue Charles Bourseul - CS 10838 - 59508 Douai Cedex - France
Tél. : (33) 327 712 604 / Fax : (33) 327 712 914
http://sage.mines-douai.fr/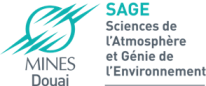 Attachment: dd.gif
Description: GIF image
---
[Actris-acsm] Looking for a MD1 pump, Véronique RIFFAULT, 03/17/2015
---
Archive powered by MHonArc 2.6.19.