actris-acsm AT lists.psi.ch
Subject: Actris-acsm mailing list
List archive
From: Véronique RIFFAULT <veronique.riffault AT mines-douai.fr>
To: actris-acsm AT lists.psi.ch, AMS Users <ams-users AT mailman.aerodyne.com>
Subject: [Actris-acsm] Postdoctoral position at Mines Douai, France
Date: Mon, 30 Nov 2015 23:24:40 +0100 (CET)
List-archive: <https://lists.web.psi.ch/pipermail/actris-acsm/>
List-id: <actris-acsm.lists.psi.ch>
---
Dear colleagues,

sorry for any cross-postings.
We have an opening postdoctoral position in our group starting asap for at least a year. The main focus will be on aerosol mass spectrometry and will include the next ACTRIS2 intercomparison exercise at the SIRTA in Paris next March.

Please find a description of the offer in the attached file.

Feel free to forward this announcement to appropriate research colleagues in your network that could be interested.

Best regards,

Veronique

--

Prof. Véronique RIFFAULT
Département Sciences de l'Atmosphère et Génie de l'Environnement
Ecole Nationale Supérieure des Mines de Douai
941, rue Charles Bourseul - CS 10838 - 59508 Douai Cedex - France
Tél. : (33) 327 712 604 / Fax : (33) 327 712 914
http://sage.mines-douai.fr/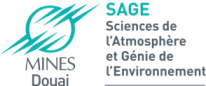 Attachment: 2016_Postdoc_AMS.pdf
Description: Adobe PDF document
---
[Actris-acsm] Postdoctoral position at Mines Douai, France, Véronique RIFFAULT, 11/30/2015
---
Archive powered by MHonArc 2.6.19.